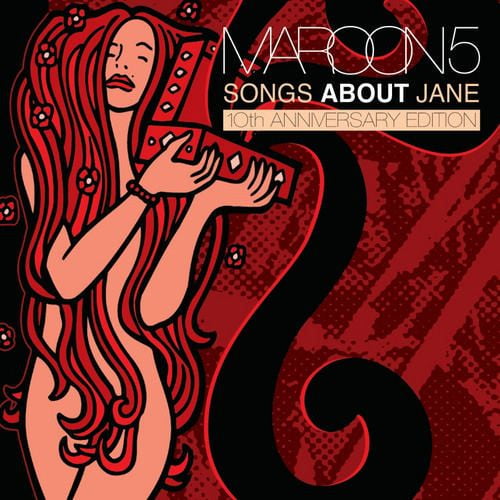 A longa e vitoriosa saga da banda californiana começou com o lançamento de "Songs About Jane" (2002), o primeiro registo de originais que nos mostrava grandes singles como "This Love", "Harder To Breathe", "Sunday Morning" e "She Will Be Loved", acompanhados por excelentes temas como "Shiver", "Sweetest Goodbye" e "Not Coming Home".
Todas as bandas têm um momento fulcral, de afirmação e crescimento, nas respectivas carreiras. "Songs About Jane" é momento fulcral, o momento determinante da carreira dos Maroon 5.
Fortemente aplaudidos pelo álbum de estreia, a consagração e aplausos aos Maroon 5 ainda se mantém, volvidos 10 anos. Prova disso foi o gigantesco sucesso de "Moves Like Jagger", um dos memoráveis momentos musicais de 2011.
Para marcar a ocasião, o álbum "Songs About Jane" é reeditadoem 2012 num formato deluxe: o primeiro disco com os 12 temas do registo original e um segundo disco que compila lados b, demos e takes alternativos de temas do álbum e ainda temas inéditos. O segundo disco oferece ainda uma visão profunda sobre o processo criativo e a construção de "Songs About Jane", com vídeos exclusivos - The Making Of "Songs About Jane" e o EPK oficial do álbum - alojados no site da banda, apenas desbloqueáveis através do CD bónus.
Faixas
CD 1

01 - Harder To Breathe

02 - This Love

03 – Shiver

04 - She Will Be Loved

05 – Tangled

06 - The Sun

07 - Must Get Out

08 - Sunday Morning

09 – Secret

10 - Through With You

11 - Not Coming Home

12 - Sweetest Goodbye

CD 2

01 - Harder To Breathe (Demo)
02 - This Love (Demo)
03 - Shiver (Demo)
04 - She Will Be Loved (Demo)
05 - Tangled (Demo)
06 - The Sun (Demo)
07 - Must Get Out (Demo)
08 - Sunday Morning (Demo)
09 - Secret (Demo)
10 - Through With You (Demo)
11 - Not Coming Home (Demo)
12 - Sweetest Goodbye (Demo)
13 - Take What You Want (Demo)
14 - Ragdoll (Original DemoNon-LP International B-Side)
15 - Woman (Demo)
16 - Chilly Winter (Demo)
17 - The Sun (Alternate Mix)
Tamanho: 104 MB
Formato: ZIP / MP3
Taxa de bits: 128 Kbps
Hospedagem: FileFactory